28 Feb

Turn Your Pool Area Into a Party Zone!

Diving boards and water slides are recognizably the most stereotypical additions to any pool. While they are inarguably tons of fun, some awesome pool accessories out there are woefully unknown. Here's a look at the hottest pool accessories for this summer.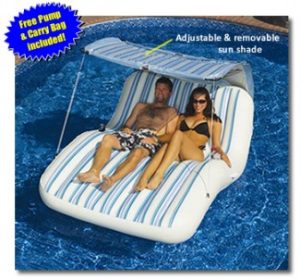 VIP Seating. Treat yourself to our elegant Unsinkable Scalloped Chaise, which comes equipped with two cup holders so you can maximize pool time. You'll look as stylish as you feel. Choose between aqua and bronze. If you want to share your float space, consider the Luxury Cabana, which boasts enough room for two and a removable sun shade. You can also investigate our huge selection of other floats for more designs guaranteed to please the whole family.
Aqua Sports. Challenge your family and friends to a game of hoops – in your pool? Yes, that's right! The Cool Jam Pro Poolside B-Ball set is a great addition to any in-ground pool; it comes with an unbreakable, adjustable backboard and regulation-size rim. It even comes with a basketball! If you have an above ground pool, consider our Pool Jam Above Ground Volleyball/Basketball Combo set. Complete with balls for both games, this equipment attaches to your pool's top rail with our patent-pending breakaway bracket. For less traditional sports, bring home a Battlestation Squirter Set and let the water wars begin! This three-piece float consists of a mothership and two individual battleboats, all of which have built-in water pistols. The pistols' constant supply of water comes from the pool itself so battles never have to be interrupted for refueling.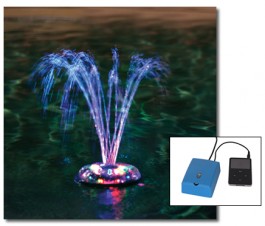 Lightshows. Dazzle all your guests with a water fountain that lights up and dances to your music. The height and color of the water spray change with the intensity of the music when you plug your mp3 player and speakers into the remote control. Alternatively, use automated color-changing LED lights to create a breathtakingly beautiful swimming environment. If you're ambitious, you could even plan and host your own synchronized swimming event! There are infinite combinations of pools and lighting, but be careful to use only lighting equipment that has been approved for pools. Electrocution is painful and can be fatal.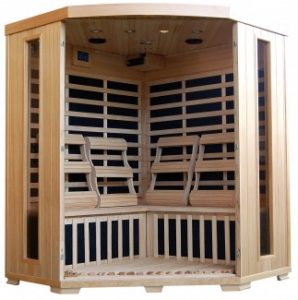 Sauna. Of course, you can't spend all your time underwater. Sometimes you have to get out of your pool, and that's when the sauna comes into play. The Tuscan 4 Person Infrared Sauna is the perfect addition to your relaxation station. It's loaded with awesome extras, like a CD player with mp3 plug-in, adjustable ergonomic backrests, color-changing lights, and more. Other sizes are also available. Sweating has never been more sophisticated.
Security. After you spend all that time and money equipping the latest and greatest in your pool, you want to make sure it's completely safe. Our selection of pool alarms can help you protect your pool and family from theft, intruders and danger.