07 Jun

Kid- Friendly Pool Equipment

Safety is a big concern for pool owners with families no matter how old the kids are. It's important to use pool toys and equipment that promote safety and well-being. Here are a few must-haves for this hot summer season.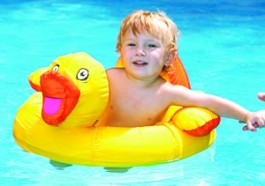 Your littlest ones can beat the heat this summer by lounging in the pool with the help of these cute swim aids. Whether they saddle up in a quacking ducky float, wear an inflatable training swimsuit, or strap on a life jacket, you can rest assured they will be extremely buoyant and adorable. Perfect for introducing baby to the water at a young age!
Of course, supervision is an absolute must for all young swimmers. Some adults love to join the kids in the pool and swim as well, but others prefer to stay dry on the sidelines. That's where one problem may come into play – kids love to swim and might not want to get out of the pool for hours on end! Try these super soft pool cushions to keep you comfortable poolside while your kids play, and say goodbye to hard concrete and snagged swimsuits!
Keep your children's favorite pool toys and accessories organized and clean with our helpful storage options, like this great deck box. You won't have to worry about the heartbreak of popped inflatables or damage from weather or wild animals.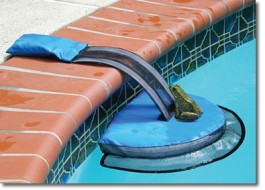 Speaking of wild animals, you can promote safety for more than just the people who enjoy your pools. This nifty critter escape ramp allows any little animals like frogs or squirrels a chance to climb out of the pool instead of drowning. It also reduces the likelihood that you will have to see, touch, or let children see the poor little dead animal in the pool; in addition, your pool water will stay cleaner.
For even more safety while you are away from the pool, make sure you install fences, nets or gates to keep humans and larger animals out. Prevention is definitely worth it!