27 Jun

Five Relaxing Ways to Beat the Heat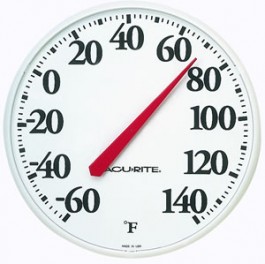 Happy first day of summer! We've waited all year for the warm weather to return and it's finally back. However, it's as important as ever to make sure you're prepared for the hot temperatures. Swimming Pool Outfitters provides everything you'll need for a fantastic summer. Here are some great tips we've put together for pool season!
Know your enemy. Hot summer days sound great when you're freezing your feet off in the wintertime, but when they actually arrive, they can be a real drag. Keep an eye on the temperature with our poolside thermometer. The big 12- 1/2″ face has oversized numbers for easy viewing from across the pool, yard, or even inside the house. The hottest days are no time to be doing manual labor around your yard when you could be cooling off in the pool instead!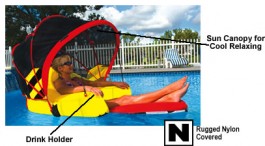 Spend time in the shade. Don't let Mother Nature dictate where the shade is, either – with this great inflatable Cabriolet lounge, you can bring the shade with you into the pool. Perfect for those hot days that you want to spend floating around, but without the sun beating down on you. The Cabriolet lounge features a super heavy duty PVC bladder on the inside with a tough nylon covering on the outside. This inflatable has the feel of a "river raft" that protects the lounge from concrete scrapes and cuts that puncture cheaper inflatables. Your kids can jump on the Cabriolet and drag it across the deck with no ill effects.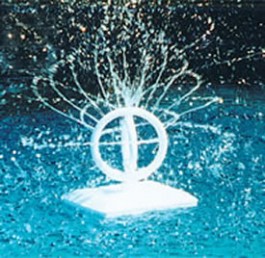 Get in the splash zone. There are quite a few ways to create a cooling splash effect. You can hire some little kids to hang out with you, if you don't mind probably being splashed right in the face. Set up a lawn sprinkler near the pool for the occasional spray. The classiest option by far, though, is the elegant Raindance Spinning Fountain, which not only sends water everywhere but does it in style.  This "dancing" fountain creates a beautiful, eye-catching show of spinning water in all directions. Watch the sun catch the beads of water as they sparkle through the air! This deluxe fountain will provide years of enjoyment. Use the included water pressure valve to adjust spray height and turn the fountain on and off without removal from the pool.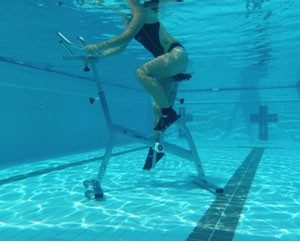 Work out underwater. Swimming laps isn't the only option for exercising in your swimming pool. Did you know that some exercise equipment is designed specifically to be used underwater, like this stationary bike or this treadmill? Aquatic exercise burns a high number of calories and is a great way to work out in the summer without the fear of overheating.  Just being in the water causes you to exercise. Every move you make in the water has to be deliberate to resist the continual pressure of the water on your body. As a regular physical activity, aquatic exercise can help lower blood pressure and cholesterol.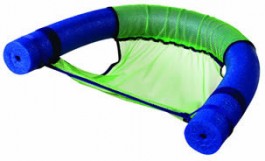 Stay submerged. Many inflatable pool floaties are designed to keep you high and nearly dry, but these nifty noodle net chairs don't need to be blown up, can't pop, and let you lounge mostly underwater. There are many other types of pool chairs and lounges that keep you bobbing near the surface as well – some even come with cup holders! Check out our online store for our full range of floats and toys as well as tons of other fantastic products for use in and around your swimming pool.