01 Jun

Turn Your Pool Into A Mini Water Park!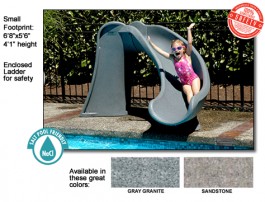 Classics are classics for a reason. The most standard pool accessories only became popular because they are so enjoyable to use! Here are some suggestions for tried-and-true pool equipment that will result in hours of fun.
Install a pool slide. Slides are a great way to enjoy your pool for swimmers of nearly any age. Although it's hard to replicate the huge slides at home, a small one is just as easy to enjoy (and you don't have to worry about buying a ticket or finding a parking spot)! We offer slides meant specifically for in-ground pools as well as slides that are compatible with above-ground pools.
Jump off the deep end with a diving board. Ok, this tip only applies to in-ground pools. It is dangerous to dive into above-ground pools because there is not enough depth or room! However, if your pool is in-ground, the likelihood of fun in the deep end increases significantly with the addition of a diving board. Host a diving contest and give prizes or hold up scorecards for more fun! Include multiple categories like biggest splash, longest time underwater, and most creative dive. We even offer diving boards designed for saltwater pools!
Add pool steps to lounge on. The shallow end has its merits too. With a classy set of pool steps to sunbathe on, swimmers will find relaxing easier than ever. Sip an ice cold beverage or read a good book and enjoy the water at the same time – why not? Sets of steps are available for above-ground and in-ground pools. Not everything at a water park has to be action-packed.
Heat things up – literally. Some water parks are careful to regulate the temperature of the water in their pools to ensure the maximum satisfaction of their guests. The addition of a pool heater is a great idea for pool owners who want to extend the swimming season. Make swimming a possibility during chilly autumn evenings by adding a heater, and you'll also be able to open your pool earlier in the springtime. No more goosebumps – at least, not until you have to get out of the nice, warm water!