24 Sep

Pool Steps and Ladders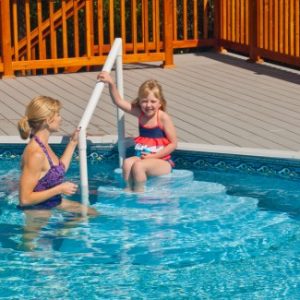 For many swimming enthusiasts, pool steps are the ideal place to relax without leaving the water. Whether your pool is above ground or in ground, the right set of pool steps or ladders pools can make a huge difference, especially for children and elders. Many styles of pool steps are designed specifically to be a comfortable place to sit. This vantage point is perfect for relaxing alone with a good book or a nice glass of wine, for lounging with a friend or two to chat and enjoy beautiful weather together, or for safely supervising young swimmers in both the shallow and deep ends.
Kids and adults agree – a good set of pool steps or strategically placed pool ladders can transform an ordinary pool into a relaxation haven. If your pool is visited often by children, especially in groups, you may want to consider installing multiple pool ladders in the deep end. Make getting in and out of your pool a breeze for everyone! Swimming Pool Outfitters offers a complete selection of pool steps and ladders for all different styles and functions.
There are many styles of pool steps and ladders. Figuring out the right choice for your pool will depend on who is going to be using your pool, what they intend to be doing in or around the pool, and their physical capabilities. Some sets of pool steps feature railings and wide steps for easy access. Others are narrow and leave plenty of room for swimmers.
Depending on the climate in your town, it may be a good idea to invest in removable pool ladders for easy wintertime storage.
Here are just a few of the awesome pool steps and ladders that we have available for purchase.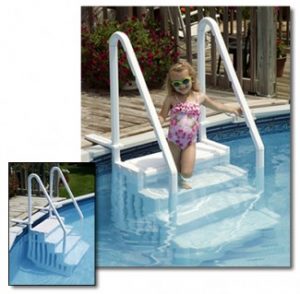 This rugged step is made from maintenance free polyethylene and it will fit any above-ground pool up to 54" in depth. Double handrails and big slip-resistant steps make an easy exit for young and elderly swimmers alike. The Easy Step is designed to meet or exceed all NSPI standards for safety and swimmer entrapment. The unit is easy to assemble and can accommodate up to a 350-lb. swimmer. The step is perforated to allow water and chemical circulation and eliminate a dead water area where algae can grow. The patented design allows for easy installation and removal of the ballast weight for off-season winterization.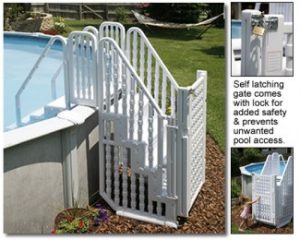 Make getting into and out of your above ground pool a snap with this deluxe maintenance-free entry system. Made from non-corroding vinyl this 4-step entry system is easy on the legs and its gradual incline means almost anyone can now use the pool. The solid dual handrails and non-skid steps ensure trouble-free use by everyone. Designed to fit either 48″ to 54″ pools this system will also fit round or oval pools. The top of the entry has a strong platform that protects the top rail of your pool. The weight of the gate causes it to close if left open, and gate is lockable for added pool security.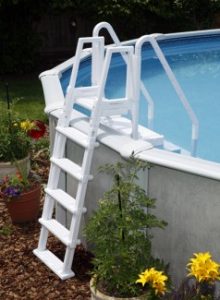 This rugged step/ladder entry system is all you need to enter and exit your pool if you don't have a deck. The Easy Pool Step system features our rugged step that will fit any pool up to 54" deep; and makes getting out of your pool easy and safe. Attached to the step is our classic ladder that swings up and can be locked for safety. Both the Easy Pool Step and the classic ladder can support up to a 300-lb. swimmer. They are made of corrosion-proof polyethylene for years and years of use. The step and ladder system is easy to install and operate.