29 Oct

Pool Exercise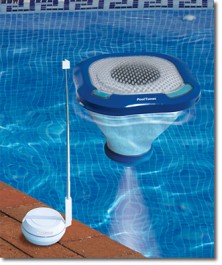 Spending time in your pool is a great way to stay in shape (or get there!) The water relieves a lot of the pressure on your joints, meaning they're not at risk for supporting too much of a load.
Aqua Dancing – We mentioned this briefly in a blog earlier this year but it's too great an idea to pass up. Choose your favorite tunes, blast them on a poolside stereo, and dance like nobody is watching. We have a selection of pool-compatible speakers available, including the wireless PoolTunes and a light-up fountain that actually dances to your music too!
Swimming Laps – The old tried and true is called "tried and true" for a reason. Push yourself to swim one more lap every time you get in the pool and sooner or later, you'll be Michael Phelps. Well, okay, maybe not quite, but you get the idea! By gradually increasing your workout by one lap each time, you won't even notice the intensity unless you actually think about it.
Just Having Fun – Who needs a workout program when you can just get out there and swim around like a fish? Invite friends over for a pool day. Play games. Have races.  Check out our vast selection of floats and toys!