11 Feb

Diving Boards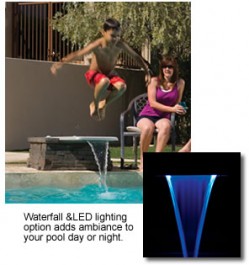 The diving board, also known as a springboard, is a classic swimming pool fixture. Diving became an Olympic sport in 1904 and many different styles of diving have been invented over the years.  Obviously, with the advent of man-made swimming structures, diving has become easier and safer for all to enjoy, but there is no real way to determine when mankind began to find enjoyment in jumping into bodies of water.
For safety, it is required that diving boards only be installed on swimming pools that are 11.5 feet deep at the point directly below the tip of the diving board. This rules out above ground swimming pools. As always, when swimming, it is of the utmost importance to use as much caution as  possible.
We offer several sturdy and top quality diving boards and diving board stands for any in-ground swimming pool. Featured below is just a sample of our selection. Take a look! If any of these products interest you, click on the image and you will be taken to the item's listing on our site.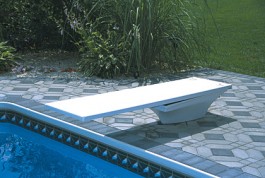 FLYTE DECK II STAND
This high quality diving stand features tough color fast material that will hold up in all types of weather. The Flyte Deck II stand comes with a concrete jig that is easily installed when paving your deck. Stand meets all NSPI standards. Available in white. Comes with stainless steel mounting hardware and mounting jig. 3-Year Warranty. Works with Fibre-Dive and Frontier III diving boards, which are also available on the Swimming Pool Outfitters website. These high quality diving boards feature a tough, non-slip colorfast acrylic surface laminated to a wood core that gives them additional strength and durability. Our boards meet all NSPI standards. Available in white with white trim. All boards come with mounting hardware (dive stand not included) and are backed by a 3-Year Warranty.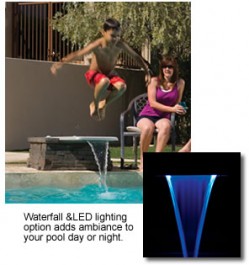 DURO-BEAM AQUABOARD DIVING BOARD
The DuroBeam aquaBoard by Interfab features a tough, non-slip colorfast acrylic surface laminated to a wood core for strength and durability. DuroBeam meets all NSPI standards and is available in white with white trim. 3-Year Warranty.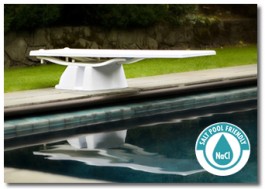 SALT FRIENDLY DIVING STAND & SPRING
This new dive stand and spring is made to be used in salt water pools. Special additives and coatings have been added to make this dive stand virtually corrosion proof. Fits Frontier III, Glas-Hide, Freestyle & Hip Hop boards from SR Smith. Designed for new and retrofit applications. Includes stand, spring assembly and jig. Available in white. Salt Friendly Dive Stand is NOT COMPATIBLE with Fibre-Dive Boards.